Understand the keys to developing a reliable and consistent ball toss. Listen to our podcast as we share our approach and insights on how to be the boss of your toss!
Examples of incorrect and correct ways to hold the ball:
======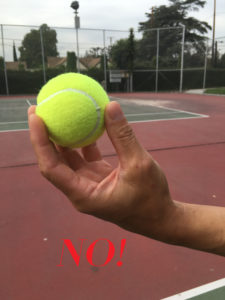 Holding the ball with your fingertips. (i.e. the ball does not rest in the hand).
======
Bottom of the ball rests on the part of the hand where the fingers and top of the palm meet; fingers are spread comfortably "cradling" the ball (as opposed to "holding" the ball)   
======
Video on the incorrect way to toss a ball. Don't flick the wrist!
https://www.facebook.com/RockandRallyTennis/videos/1807406682877308/
Tags: tennis, rock and rally, podcast, career, serve, TLC, toss, leg, engagement, commitment, racket, arm, flick, wrist, finger, boss, palm, hand 
Podcast: Play in new window | Download